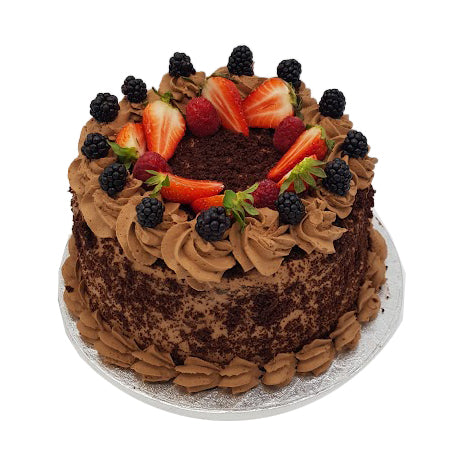 Vegan Chocolate Cake
EGG FREE. MEAT FREE. DAIRY FREE. A moist dark chocolate sponge, baked to perfection, filled and topped with a smooth, rich chocolate ganache and decorated with chopped fresh strawberries, berries and sprinkle of raspberry. This is pure chocolate-loving indulgence and indisputable proof that vegan cakes can look fabulous and taste sumptuous.
Note: For any allergy advice kindly call us before purchasing the product.
Frequently asked question
Fruit Cake:
Fruits: Strawberry, blueberry, blackberry, raspberry.

Sponge:
Wheat Flour (statutory additives: calcium carbonate, iron, thiamine, niacin), sugar, faba bean flour, Wheat starch, raising agents (E450, E501, 500ii), emulsifiers (E471, E481), dextrose, stabiliser (E415), natural flavouring, acidity regulator (E327).

Filling:
Margarine, salt, icing sugar, water, carrier propylene glycol, caramel sugar syrup, thickener xanthan gum; acidity regulator citric acid; preservative potassium sorbate; carrier glycerol.

Cream:
Water, fully hydrogenated vegetable fat: palm; sugar; stabilizer: sodium phosphates, methyl cellulose, xanthan gum, guar gum; emulsifier: polysorbate 60, sodium stearoyl-2-lactylate; salt; flavourings; colour: carotenes. Vegetable glycerine E422, Mono propylene glycol E1520, Water, Food Colour E124 ponceau 4R, E129 Allure red.

Storage information:
Vegan cream cakes – Store below 5°C
Let your customers know if you offer free delivery for certain types of orders
Link to your offers page.