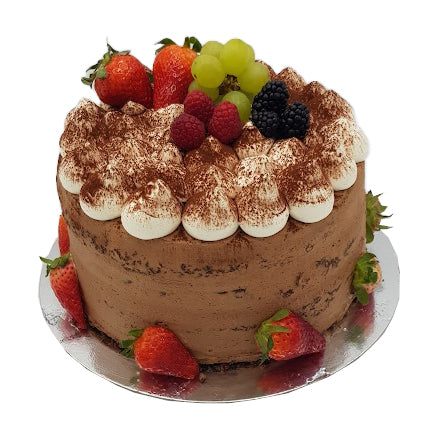 Vegan Choco Cake
EGG FREE. MEAT FREE. DAIRY FREE. Our vegan cakes still have all the taste without any ingredients derived from animals. Our Choco Vegan cake comes with chocolate sponge and a vegan chocolate buttercream filling, finished with fresh cream curls, cocoa dusting and topped with fresh fruits. 
Note: For any allergy advice kindly call us before purchasing the product.
Select your Sponge & Flavours
Frequently asked question
Fruit Cake:
Fruits: Grapes, strawberry, blueberry, blackberry, raspberry.

Sponge:
Wheat Flour (statutory additives: calcium carbonate, iron, thiamine, niacin), sugar, faba bean flour, Wheat starch, raising agents (E450, E501, 500ii), emulsifiers (E471, E481), dextrose, stabiliser (E415), natural flavouring, acidity regulator (E327).

Filling:
Margarine, salt, icing sugar, water, carrier propylene glycol, caramel sugar syrup, thickener xanthan gum; acidity regulator citric acid; preservative potassium sorbate; carrier glycerol.

Cream:
Water, fully hydrogenated vegetable fat: palm; sugar; stabilizer: sodium phosphates, methyl cellulose, xanthan gum, guar gum; emulsifier: polysorbate 60, sodium stearoyl-2-lactylate; salt; flavourings; colour: carotenes. Vegetable glycerine E422, Mono propylene glycol E1520, Water, Food Colour E124 ponceau 4R, E129 Allure red.

Storage information:
Vegan cream cakes – Store below 5°C
Let your customers know if you offer free delivery for certain types of orders
Link to your offers page.